Essential Motorhoming Tips for Your First Trip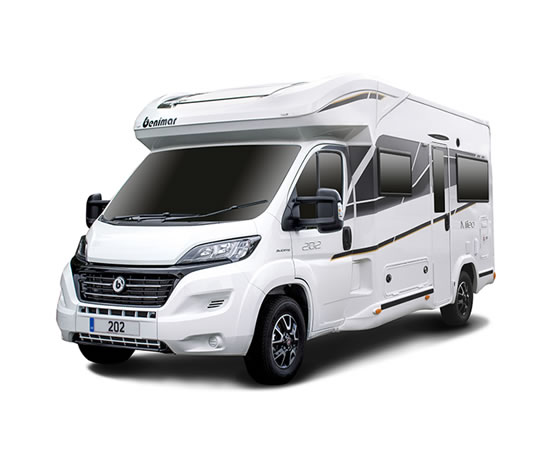 Do your research
Before you head out into the world, you need to know where you're going to go. Every journey in a motorhome starts with a plan of some sort. While it's often vague and prone to change, having some semblance of a plan is essential, even if only to know where you'll be parking up each night.
Check out forums
If you're heading somewhere in your motorhome, you can guarantee that someone else will have been there first. Don't be afraid to join forums and ask around for advice – the motorhome community is always happy to welcome new members into the fold!
Be organised
When you're planning your trip, be organised about it. Make sure you know enough about where you're going, and about the environment you're heading into, and that the items you pack reflect that appropriately.
Take the bikes
Motorhoming is fantastic in its own right, but when combined with a bicycle, the experience can be transformed. A bike gives you the freedom to head out and explore where your motorhome cannot go, allowing you to park up for the day, and cycle into the unknown.
Be prepared for the weather
While we all want the weather to be good when we're travelling, don't just ignore the fact that bad weather can happen. Check the weather in advance, and make sure that you bring the right tools for the job! For summer in Spain, don't forget the suncream, but for a summer in Scotland, you'd better bring a good raincoat!
Don't forget proper insurance
It sounds silly, but before you set off, make sure you know the details of your insurance. You don't want to be caught out by a large excess, or by not knowing if your contents are covered. If you don't know, make sure you ask our team!
Invest in extra safety devices
When you're heading out in the motorhome, we all take a sat nav system.  But sometimes, that's not enough. If you're worried about driving in a larger vehicle, get a dashcam and reversing camera so you know you're covered.
Don't forget any of your essentials
It sounds silly, but before you set off to pick up your motorhome, double check everything! Make sure that you have your passports and driving license, your chargers, medications because there's no guarantee that you'll be able to get more!
Watch the weight
More than anything, watch the weight of your vehicle. Every motorhome is rated up to a specified tonnage, and if you exceed it, you risk damaging the vehicle or make it unsafe to drive. If you're uncertain about how much weight your motorhome can handle, just ask our staff or check online on our website.
Check your tyre pressure
Motorhome wheel blowouts are a common cause of road accident insurance claim, a real sign that you have to keep your eyes on your tyres. Make sure that you know the appropriate pressure values for your tyres and keep your vehicle safe.
Motorhome seatbelts
Make sure that your motorhome is going to have enough seatbelts for the passengers you're carrying. Wearing a seatbelt is compulsory in a moving motorhome, and failing to do so can result in serious injury.
Know the height and width
If you're driving a motorhome, one of the things that often won't be covered by your insurance is damage to the upper bodywork of your motorhome caused by your driving. Make sure you avoid any unnecessary bumps or knocks by knowing the size of your motorhome, and planning your routes accordingly. Driving under a low bridge in a car is safe enough, but in a 2.5 metre motorhome it can end in a nasty surprise!
Use your mirrors
If you're not used to driving a larger vehicle, a motorhome can be quite a step up. Make sure you set up your mirrors so you can see the sides of your vehicle and the road around you.
Take it steady
Motorhoming is not (usually!) a racing sport. Getting from A to B isn't a rush, so make sure you stick to the speed limits and take breaks when driving. Handling such a large vehicle can tire you out, so frequent breaks will help you keep your journeys safe.
Use the campsite facilities
Convenient as it is to be able to use your onboard shower and toilet, it is worth considering using campsite facilities where possible. Obtaining water and toilet chemicals when there are free alternatives is an expense you can avoid. More importantly, remember to plug your motorhome into mains power so you don't have to worry about the limits of your leisure battery!
Stay security conscious
To avoid thefts, make sure you leave your motorhome locked up when you intend to be away from it. Keep the windows closed, valuables out of sight, and try to be mindful about the location of your valuables when you're sat with the door open on a campsite.
Shut it!
When you're about to set off on a drive in the motorhome, make sure everything inside is shut and locked. Failing to do so can leave your pots and pans flying around the inside, something we recommend avoiding to prevent the risk of damage! Also ensure that the windows are shut when during rain – avoiding damp in a motorhome is a must.
Have some loose change
When you're driving around, always keep some loose change available in the cab. This is true whether you are driving in the UK or in Europe, because you never know when you'll need it for a toll or for a carpark fee!
Tell your friends
When you've finished up your motorhome experience, tell your friends about it! The motorhoming community is always looking for more members, and we want to show the world that there is fun to be had in a motorhome.
Relax and have fun
Most importantly, make sure you relax and have fun! Whether you're on a family trip to the Lake District, a solo adventure around Europe, or travelling with friends around the Scottish Highlands, the most important thing to do is have fun and enjoy the freedom of the road. At Motorhome Kings, our motto is that if there is a road, our motorhomes will get you there, so enjoy your freedom and make it an adventure to remember!