What's better: motorhomes, campervans or caravans?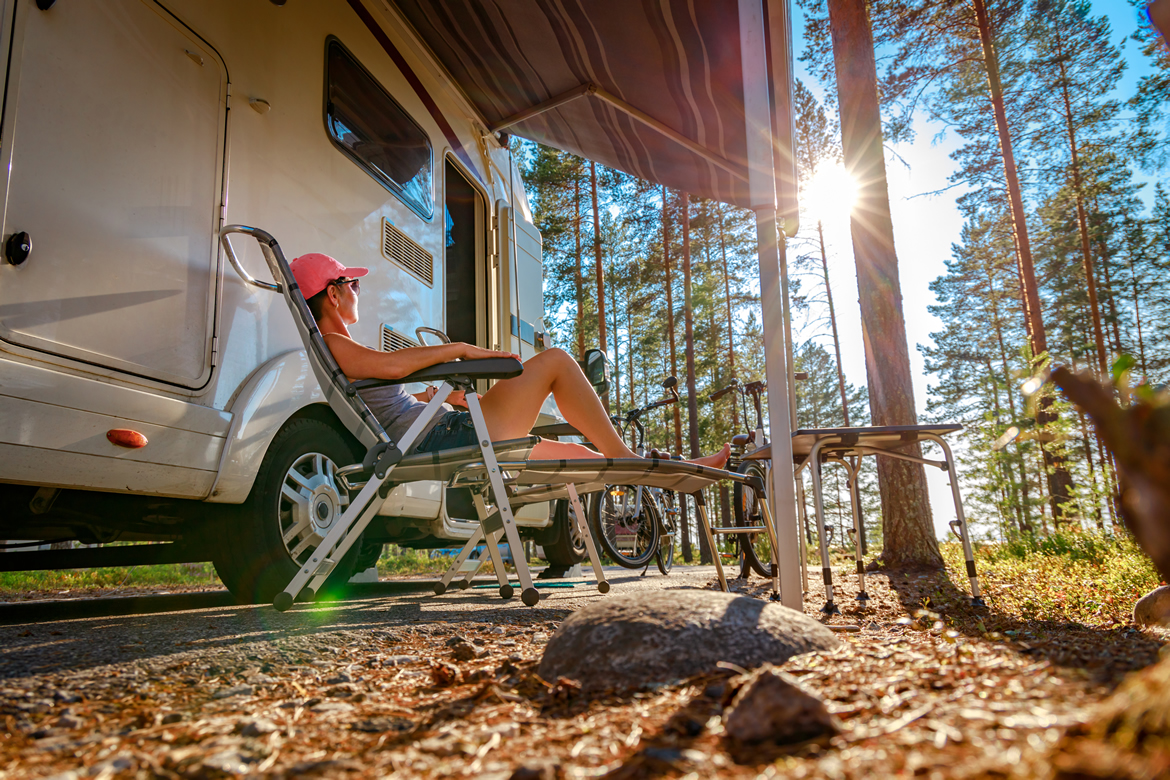 So you've decided that this year camping might not be for you. The tent you last used leaked, the stove wouldn't light due to a sudden downpour, and once your clothes are sat in a damp pile in your tent, it's hard to change that fact. The problem now is that you're presented with a choice: do you want to explore the world in a caravan, a campervan or a motorhome?
So what's the difference, and which one is right for me?
None of the three are objectively any better, and each comes with some advantages and disadvantages. Our team have come up with some pointers below to help find the right option for you.
Caravan:
Caravans are a cheap and cheerful option when it comes to exploring the world. Often available at under £1000 second-hand, they are significantly cheaper than motorhomes and campervans of a similar size. Especially in more modern models, the caravan also has the added advantage of being purpose built, relatively sturdy and often surprisingly luxurious (within reason). However, these modern models tend to be far less cheap, and while half the price of a similarly sized motorhome, at £20,000 a pop, this is still a hefty investment!
However, there's a reason for this relatively low price: you have to tow the caravan. As is known by anyone who has ever towed anything, towing is only ever moments away from going horribly wrong. While you may have a double bed, kitchenette, toilet and shower all on-board, you are completely reliant on the power of your towing vehicle. As such, you won't be able to explore in the same way you can in a campervan or motorhome, as the unwieldy nature of the caravan can make towing in off-road situations all but impossible. While luxurious for their price bracket, a caravan is a compromise that sacrifices many of the greatest enjoyments of an adventurous holiday!
Campervan:
A campervan is the mid-point between a caravan and a motorhome. It's not luxurious. It's not cheap. It's not big. But if you're intending on going on a slightly more rugged adventure, or want to be able to fit under those pesky carpark height barriers, this is probably the best choice for you.
What makes a campervan distinct from a motorhome is that while they are both self-propelled entities, a campervan tends to retain the original vehicle outer bodywork, though usually with some modifications. The most common addition to the frame is a pop-up roof, but for the most part, you will find that a campervan will remain (mostly) true to the base vehicle's dimensions. This can be a real boon when navigating narrow roads or under low bridges, as these vehicles have a far more normal profile. Where a motorhome cannot go under a 2-metre height restriction without lopping off its roof, most campervans can fit under such a restriction with ease. This makes the entire process of navigating far easier and much less stressful.
On the other hand, the campervan simply isn't as luxurious as the other options, and will definitely be cramped. Don't try and fit a group of 4 inside one of these unless you're feeling somewhat sadistic, or you're extremely keen on getting to know each other! More importantly, it probably won't have a bathroom, and facilities in general will be very limited so you may be dependent on campsite facilities, unless you feel extra-keen on experiencing some very wild camping! The best way to think of a campervan is as a tent with wheels that is far less prone to leaking: it won't be luxurious, but it'll probably do the job.
Motorhome:
A motorhome is undoubtedly the most luxurious of the options available. If you're hoping to buy one, perhaps unsurprisingly since it combines the best elements of a campervan and a caravan, it is also the most expensive option. However, unlike a campervan, a motorhome comes equipped with most of the facilities you will require, including a kitchenette, a toilet, and even a shower. If you're after a little bit of comfort, then a motorhome is likely worth the price.
Usually, it will also be far more capable in adverse weather conditions than either of the other options. This is because, unlike a campervan, a motorhome is designed explicitly as a home on wheels, and the design will certainly reflect that. It will usually have a solid cabin, and this lack of moving parts drastically reduces the likelihood of leaks occurring. More importantly, unlike a campervan with its single-glazed windows and limited insulation, your motorhome will have heating and a nice set of double-glazed windows. This means that while in a campervan adverse weather conditions can prevent you from heading out to adventure in winter, a motorhome will likely be able to handle everything that the weather can throw its way.
Ultimately, if you're looking for the comfiest way to explore the world, where you can be self-sufficient and explore at your own leisure, a motorhome is probably for you. Given the wide availability of motorhome rental opportunities, you don't even have to worry about the high cost of purchase anymore. If you're interested in renting a motorhome so you can explore the world at your leisure, why not do so today through Motorhome Kings. All in all, we think it's a no brainer!